OVERVIEW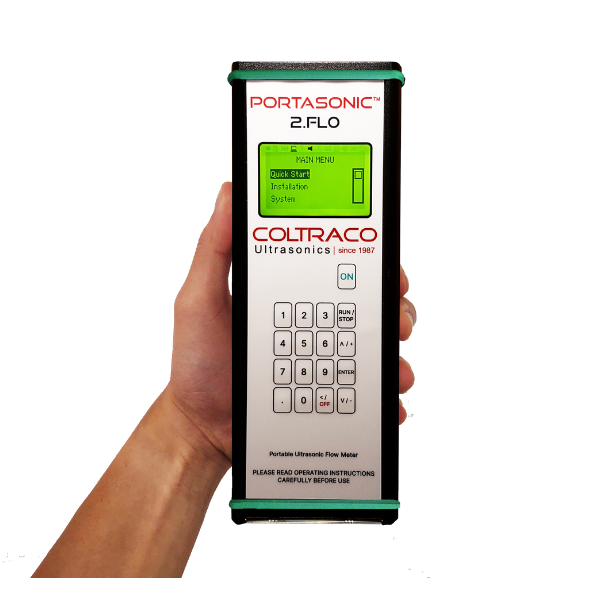 The Award-Winning Portasonic to non-invasively measure the flow of any clean liquid through a wide variety of pipes. Can also be combined with the Portasonic® 2.FLO Calculator to calculate and store internal pressure readings!
Non-invasive ultrasonic flow technology allows the internal flow of a pipe to be measured without the need to modify or access the internals of the pipe in any form. Simply place sensors on the outside of the pipe, go through the setup process and instantly measure the speed and volume of liquid flowing through the pipe. This is used throughout the process industry, fire hydrant testing, and numerous other testing and maintenance applications.
Applications
Commonly used for measuring any clean liquid in pipes with a gas/solid content of less than 10% volume. Includes process industry, fire sprinkler systems, wastewater, fuel monitoring, foam proportioner testing just to name a few.
Multiple Metrics
The device includes built-in thickness gauge (includes A-scan functionality), volumetric flow rate, mass flow rate, energy (heat quantity) flow rate all from one instrument
Total Flow
All measured values can be totalised giving you the total flow rate that has been measured during a particular measurement session
Intuitive
Unique Human Machine Interface (HMI) driven menu that emphasises intuitiveness and user-friendliness
Versatile: Capable of working on pipes DN15 – DN 2500, across multiple different pipes/pipe sections. Large internal database of pipe, fluid, and lining materials (19+ for fluids, 23+ for pipe and lining materials)

Clamp-on:

 Clamp-on therefore no installation costs such as drilling into pipes and no downtime to the pipe network is present
Reliable: Measures flow velocities between 0.01 m/s – 25m/s.

Diagnostics:

 It has a built-in signal oscilloscope for sensor positioning and diagnostics to achieve maximum accuracy with the measurement while providing visibility of the potential issues with the installation for troubleshooting purposes.
Non-Contact: The fluid cannot damage the flowmeter, which could contribute to a longer lifespan and lower maintenance cost compared to inline flowmeters which are in contact with the fluid and risk being damaged by the pressurised flowing fluid
There are so many advantages and benefits of using the Portasonic® 2.FL0:
Accurate to +/- 0.5% under ideal conditions. Resolution of 0.25mm/s. Repeatability of 0.15% of measured value.
No risk: As there is no contact with the fluid being measured, there is no risk of pressure loss throughout your pipe network

Long life:

 IP65 main unit enclosure. Battery life up to 12 hours' continuous use, standard 9V PP3 battery

Robust:

Sensors temperature range -20°C to +150°C.. Sensors rated IP66
TECHNICAL SPECIFICATIONS


Dimensions
220mm (L) x 85mm (W) x 33mm (D)
Weight
434 grams
Pipe Diameter Range

DN15 – DN 2500 (1/2 inch – 98 inches), please enquire for larger pipes
Liquid Types
Most clean liquids with gas/solids less than 10% volume
Accuracy
+/- 0.5% of measured value under ideal conditions
Flow Velocity
0.01m/s – 25 m/s
Resolution
0.25 mm/s
Repeatability
0.15% of measured value
Turndown Ratio
1/100
Measurement Units

Flow velocity

Volumetric flow rate

Mass flow rate, Energy flow rate (heat quantity)

Volume

Mass

Energy

Display

Full 128 x 58 pixel graphic display with backlight

Power Supply

9V PP3 battery

12 hours continuous use

Operating Temperature

Main unit: -10°C to 65°C 

Sensor: -20°C to 150°C 

IP Rating

Main unit: IP65 enclosure

Sensor: IP66

Sensor Dimensions

Standard sensors – 40mm x 20mm x 25mm

Large sensors – 60mm x 30mm x 35mm

Cable Length

1.5m as standard

additional lengths available on request